KABUTO IZANAGI HELMET - METALLIC BLUE
Regular price

RM 1,049.00

Sale price

RM 1,049.00

Regular price

RM 0.00
Share
"In order to stand at the top of all." Kabuto announces new release of the flagship model "IZANAGI" which realizes "excellent feeling by integrating high performance."

Kabuto's unique development operation "Kabuto Concept" * 1 that specializes in specific performance in bicycle races under various conditions and exhibits the best performance depending on the application. IZANAGI combines the three major elements; "cool feeling", "light weight" and "aerodynamics" ; to achieve the "excellent" feeling. A combat helmet that commits to stands at the top in a harsh environment.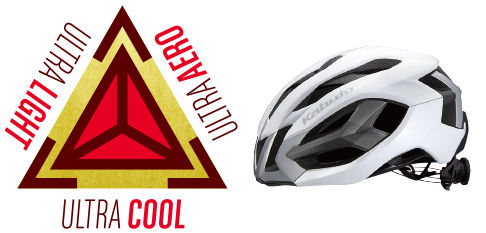 A flagship model that combines high performance with an "excellent" feeling
Functions & Technology                    
●[Technology that maximizes "highest air cooling efficiency" and "fit"]
In order to demonstrate the best performance in hot and humid Japanese summer, IZANAGI is adopted with a lot of technology that brings out the "best air-cooling efficiency" and the "fit" that gives you the feeling of wrapped in palms.
● Floating structure interior design that maximizes the two elements, air cooling and fit
By connecting the front pad and adjuster, IZANAGI is given the floating structure, lifted from the entire head enables holding on a wide surface without obstructing airflow. Achieving the "excellent" fit that gives you a feeling as if your palms holding and evenly tightens your head .
Floating Structure
● Large air inlets, and Reinforcement bridge are adopted for efficient air introduction and strength
This "reinforcement bridge" amplify the strength of the helmet itself, even with securing a large air inlet area. A large amount of air can be introduced by securing a high level of rigidity.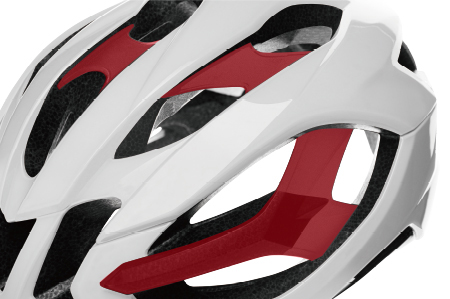 Reinforcement Bridge
● Air route design considered the hot and humid Japanese summer
In consideration of the hot and humid summer in Japan, which is becoming more severe year by year, we thoroughly researched the air inlet / outlet so that hot air does not stay inside the helmet. By adopting an air inlet position, shape, and opening size that efficiently takes in cool air, the air route is secured, providing an excellent cooling effect comparable to Kabuto's previous air-cooled models.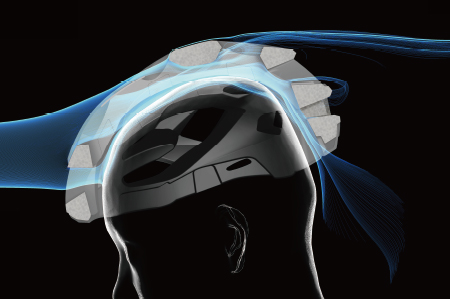 Intake and exhaust images based on CFD (3D Computational Fluid Dynamics) analysis results
● Adopts KBF-2 adjuster with Boa® fit system
Equipped with "Boa® Fit System * 2" that enables fine adjustment and uniform tightening of the fitting. A large adjustment dial with a good finger grip allows for instantaneous one-handed adjustment according to the situation.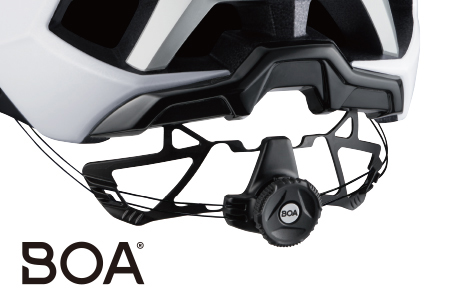 KBF-2 Adjuster
● New mechanism that allows two-level adjustment to both sides ・ Headrest & "eight-level up and down" adjustment function
A new concept support system (patent pending) that allows the width of the headrest to be adjusted in two levels, and enables fitting according to the shape ofthe occipital region, which have individual differences.
In addition, the adjuster arm from the top of the head to the back of the head is availaable to adjust in eight levels up and down. Combined with the new headrest width adjustment function and the flexible adjuster arm, it provides a fine and yet "distinguished" fit.
| | |
| --- | --- |
| | |
| New mechanism・Headrest (patent pending) | Adjuster arm (adjustable up and down in 8 levels) |
Other Functions                  
[Materials and support items that assist "air cooling efficiency" and "comfort"]
● Strap with water repellency added to deodorant fiber MOFF®
A water repellent function is added to the chinstrap material deodorant fiber "MOFF® * 3", to lessen the weight increase by sweat and to keep it refreshing.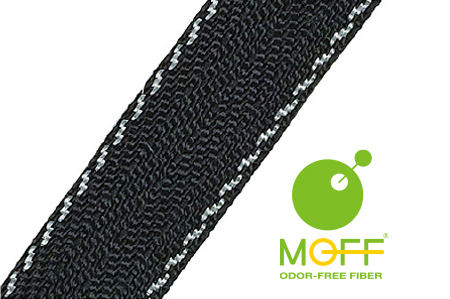 Chinstrap with water repellency added to deodorant fiber MOFF®
● Three kinds of highly practical interiors are available to be selected according to the application
Three types of interiors are available for IZANAGI, depending on the application and season. "Normal inner pad" that emphasizes breathability. "A.I. Net *4" (MOFF® adopted at the mesh part) that suppresses insect invasion, and "WINTER inner pad" for winter that suppresses invasion of wind.
| | | |
| --- | --- | --- |
| | | |
| Normal Inner Pad | A.I.Net | WINTER Inner Pad |
In addition to the original air-cooling performance of the helmet, the inner pad material "COOLMAX® *5", which evaporates sweat quickly and keeps the surface smooth and comfortable, lowers surface temperature and demonstrates excellent moisture control.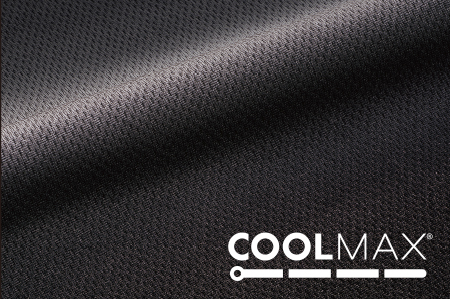 COOLMAX®
● "Ultra Sweat Pad-03" to prevent sweat from entering the eyes from the forehead
IZANAGI is packaged with "Ultra Sweat Pad-03", a floating structure that can be used in place of a front pad. This efficiently guides sweat to the left and right of the forehead, preventing intrusion into the eyes.
Ultra Sweat Pad-03
● Eyewear hold function and non-slip rubber
By attaching an air hole that easily holds the eyewear and with the included "non-slip rubber", it holds eyewear good. Non-slip rubbers are included in 3mm and 4mm thickness, available to select them according to your eyewear shape. (Excluding specially shaped eyewear)
Eyewear Holding Function
Non-Slip Rubbers(

3

mm, and4mm thickness)
Specification:
Material: MOFF Ultra thin chin strap with instant deodorizing material
Technology: Floating structure that maximizes air cooling and fit, Boa fit system for fine adjustment, Ultra sweat padding included, Headrest mechanisim that allow two-step adjustment
Fit type: Regular Fitting
Air Vents: 27 Air vents
Head Circumference: M (55 - 58 cm), L (59 - 60 cm)
Weight: 225 gr (size M)